How Civil Groups Endorse Uba Sani for Kaduna Guber Elections
Civil Groups in Kaduna have endorsed the incumbent Senator representing Kaduna Central in the Senate, Senator Uba Sani for Governorship Elections in Kaduna State for the forth coming 2023 general elections.
Speaking on Saturday in Kaduna, Dr. Abdullahi Abubakar who led over 2000 members of different civil Groups in the State said the endorsement of Senator Uba Sani is to sustain the good works in Kaduna, unite the people for growth, development, security and peace.
"Uba Sani resolved not only to pick and sustained the position of his deputy in Southern Kaduna, but also ensure she is a female for gender balance and to carry the women along." Abubakar stressed.
Earlier, the Civil Groups pinpointed that
"between1999 and today, kaduna is having its 5th governor in the person of His Excellency Nasir Ahmad el-rufai. No doubt, for anyone who knew Kaduna before 2015, in the last 7 years plus, the crocodile city and centre of learning has undergone and still undergoing transformation in various sectors.
"Of cause, there is competing needs in the face of scarce resources, but there is no gainsaying that the incumbent Government has raised the bar of governance in the state.
"His position as the Senate Committee Chairman on Banking, Insurance and Allied Matters has seen him aiding financial availability to the state which has helped in the transformation.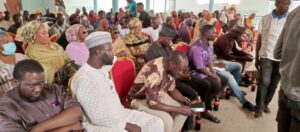 "Uba Sani has also quietly aided many indigent individuals, groups and even students withinbhis constituency ans beyond. Most of these he did and still doing quietly without any frenzy. " They maintained.
The group called on the people of Kaduna State to vote Senator Uba Sani as their Governor in the next election to sustain the bar of governance as currently raised and ensure Kaduna in reality reflects its position as not just the headquarter of northern nigeria, but a mini Nigeria where everyone would be proud to associate with.