Health Reportage: How Usman Toma bags award of Excellence
In order to motivate Media Practitioners and sustain professional cum competitive journalism, the Editorial Board of News-Guide Nigeria started an annual assesment and award of her excelling Staff.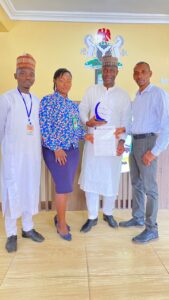 In it's maiden edition Mr. Usman Haruna Toma of Kaduna station emerged overall best in mental health reporting for the year 2022.
Presenting the award to Mr. Usman Toma on Tuesday in Kaduna by the News Editor Comrade Nicholas Dekera who led media mogules to Toma's office maintained that objectivity and credibility in journalism is sacrosanct and panacea for societal development pointing that the media must set agenda that develope and empower humanity, any practice that does not add value to humanity is not worth practising.
According to him, "the winner of Mental Health Reportage for year 2022 Mr. Usman Haruna Toma has dedicated his time over the years in reporting Mental Health issues even when he is not on salary. So many of our colleagues that are even on salary do shy away from covering such beats ."
"Those write ups have certainly build people and this is just to assure and encourage you of support for you to win more." He added.
Responding, Mr. Usman Haruna Toma who revealed that the award was a surprise to him maintained that he will do more .
According to him, "when the office called that a delegation was coming to see me today I was really wondering what happened, honestly this means a lot to me as I never knew my contributions were noted"