Wike N200m Donation: SOKAPU Flags Off Distribution Of Relief Materials To IDPs
The Southern Kaduna People's Union (SOKAPU) on Friday flagged off the distribution of relief materials to Internally Displaced Persons (IDPs).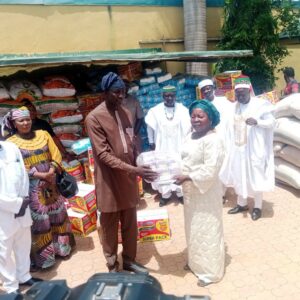 Items distributed at the flag off include, 100 bags beans, 200 cartons of noodles, 100 cartons macaroni,  100 cartons spaghetti, 180 bags 50kg rice and   80 bags of garri.
Others include, 200 packets diapers, 100 cartons vegetable oil,  salt, spices,  100 packs sanitary pads and 100 cartons of petroleum jelly,
Speaking at the flagging off, President of SOKAPU, Honourable Jonathan Asake  said distribution would be under strict supervision.
"We have written a letter of appreciation to Gov Wike, we will also give a report," he said.
The flagging off was attended by several stakeholders, who witnessed the brief ceremony at SOKAPU's office in Barnawa.Top dignitaries at the flag off were Chairman of Kauru LGA, represented by  his vice,  Reverend Augustine, Representative of Kajuru LGA chairman,  Mr. Ayuba Samuel, who is the  Vice Chair, Agwatyap  Sir Dominic Yahaya, represented by Reverend Victor  Elisha Yahaya,  who is also the camp chairman, Samaru Kataf IDPs, Chief of Chawai Chiefdom, Alhaji Yahaya Mohammed and  representative Chief of Attakar, Chief Vincent Bognet.
Also present, were  CAN Chairman Chikun LGA, Reverend Shekwolo Ayuba,  President of Atyap Community Development Association  (ACDA), Dr. Samuel Achi, Danjuma Bege, a stakeholder from Kajuru, Stephen Gimba representative of  former District Head of Iddon, Wife of late Agwom  Adara, Mrs. Victoria Mai Wada Galadima, Dr. Sam Mazawaje, stakeholder from Kachia and Mrs Laka Madami stakeholder from Chikun amongst others.