Wildfire Raze N100m Catholic Seminary Facilities
Properties worth over 100 million naira have been razed by wild fire at St. Peters Minor Seminary Katari, Kaduna.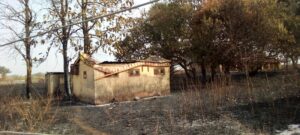 Speaking with newsmen in Kateri after inspecting the worth of damage, the Rector of the School, Rev Fr Sati Edward
lamented that the fire which started at noon , razed the fully equipped Science Laboratory, two blocks of hostels, a 500 hundred capacity student dining hall with a kitchen attached worth over 100 million naira.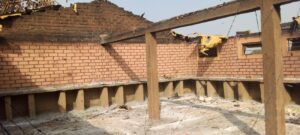 Sati revealed that: "I got a call around noon that the hostel was on fire, I immediately called the Archbishop of Kaduna and by the time I came back from town the youths in Kateri town were here and making an effort to put out the fire. We noticed fire at the toilet, why were we trying to put it off at that time, the Archbishop who drove in by that time noticed the fire at the laboratory and before we moved there the fire was all over the lab building."
Sati fingered the high level insecurity in the area for being responsible for what happened.
He said all students and villagers had relocated to safe areas, the school and the neighborhood became deserted.
"So when the fire started the security men raised alarm before the youths ran in to assist us in putting out the fire, the damage was done but we commend the gallant youths who assisted.
We need the help of good citizens , people who care about Nigeria of tomorrow, so that we can restructure the area.
Also speaking, the Education Secretary of the Kaduna Archdiocese, Sir John Woje Bagu said the Archdiocese was in trauma, and called on well meaning Nigerians to support with funds to restructure the school.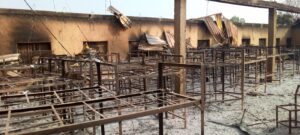 The Director Social Communication of the school, Fr. Stephen Onyema, who joined the Rector in assessing the level of damage, maintained that: "we thank God no lives were lost, but we have lost a lot. We are calling on all well meaning citizens to help out. We are praying to get funds to restructure the whole place. We may need to raise new structures completely since these ones have been badly damage by fire," Onyema stressed.