Zazzau Emirate drum support for FNPH Medical Director, sues for professionalism in mental healthcare
Zazzau Emirate Council yesterday threw its weight behind the Medical Director Federal Neuro Psychiatrist Hospital Barnawa Professor Aishatu Yusha'u Armiya'u promising to give support to the mental hospital at all times.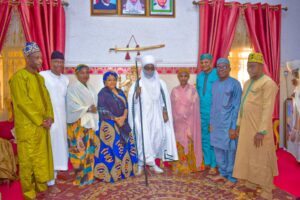 The Royal Father and Emir of Zazzau Ambassador Nuhu Bamali while receiving the entourage of the Medical Director in Zaria ancient city said "President Mohammadu Buhari appointed you because of your track records, you must uphold that and even for your name because the name doesn't belong to you along its a family name and your family is known for greatness. You must remain focus, every body must not like you, the must important thing is for you to work and take the right decisions"
Earlier in her speech Professor Aishatu Yusha'u Armiya'u said her mission in the Royal Palace was to officially inform the Royal Father Ambassador Nuhu Bamali that she has resumed work in his Emirate Council.
According to the Medical Director, " I came here for three reasons, one to thank his Royal Highness for the role he played before I assumed offiice. To inform him that I am in His Royal Emirate to work and thirdly to appealed for your support at any time and to seek your Royal support."
The Medical Director was accompanied by prominent members of the management team among whom were the immediate past Acting Medical Director of Federal Neuro Psychiatrist Hospital Barnawa, Dr David Ewaoda, the Head of Administration Mrs Clement,  Director Protocol and information Mr. Usman Haruna Toma and the Head of account Mr. Lucky Akumere
Professor Aishatu Yusha'u Armiya'u is the 5th Medical Director of the Hospital since inception. She took over from Dr. David Ewaoda on the 29th August, 2022 who served for one year as acting Medical Director after the sudden death of the then substantive Medical Director Professor Abdulkarim Yusuf Jika on the 25th August, 2021.